FF IX (Final Fantasy 9)
you need: T-search, Cheat engine etc (any memory editor should do if you can choose the value type, byte, 2 bytes etc)
: PSX emulator obviously (epsxe 1.5.2 is my prefferred choice)
the process you open would be your emulator, epsxe.exe in my case.
you can also save your cheat table as it is, the addresses stay the same(or have done for several times on my pc)
just basically find your wanted address and change the value to whatever you want.
[Gil, 4 bytes, 1 address]
open up your in game menu (D is the default keyboard button for triangle i think)
and simply search the amount of Gil you have and you should come up with 1 address hopefully,
if not, sell something and filter through the addresses(repeat until you're left with 1 address)
change to whatever you want.
[EXP from a battle, 4 bytes, 5 addresses(4 needed)]
once you finish a battle and are looking at the page where you get exp and ap (before you push x(default Z key) to
give you character the exp and ap, search for the amount of exp you recieved from the battle, you shouldnt have to many addresses come up, hopefully 5, if more than 5 go into battle again and repeat until you have 5.
the 1st address of the 5 doesnt actually change the amount of exp you get just waht you see. but the other 4 addresses do and are for each character in order. for example, the 2nd address of the 4 is for the amount of exp the character who is in second position will recieve.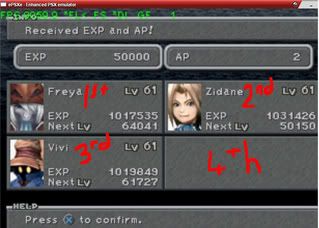 note: you will only get 5 addresses if you have 4 party members in the battle because the way the exp is given out, if you dont have anyone in 4th position or whatever one, the game wont give that position any exp. so make sure you have 4 in your party.
[AP in battle, Byte, 5 addresses]
the same as the exp one above but you search for the ap youve achieved and it is on byte search and will take longer because you have smaller numbers like 1,2,5,10 to search for.
note: same as exp above make sure you have 4 party members so you can get everyone in your party ap. also dont change the value to more than 80 unless you change the type to 2 bytes. and no more than 255 unless you change the type to 4 bytes
...more to come